wow, eleven weeks of the simple things sundays and i am still loving this simple challenge to see the small things in our lives! thank you
rebecca
for hosting this!
for my photo this week i chose this one i captured yesterday afternoon while leaving a sweet friends house after a day of chatting and crafting. i love how we both saw the lovely sky at the same time declaring how beautiful it was.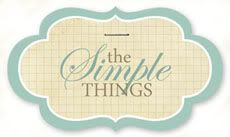 and don´t forget about
the giveaway
i posted about last night!
____________________________