this my friends is my 52nd week straight that i have gone through my photos at the end of the week seeking out that simple thing that made my week a bit better. wow! i am actually impressed by myself for not missing one week! go me!
i took this photo during a forest walk with my dogs early one morning. i love how the leaves in the background shines through.
thank you again, rebecca for starting this awesome project!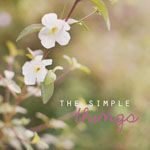 _______________________
for more simple things posts, click here!